So, last year
(with the help of the mom unit)
I sewed together some loops on a pair of shorts that I regularly used for Nerfing. Since then, the loops have frayed quite a bit and I've dropped down in waist size from a 36 to a 32
(yes, all from exercise & Nerfing)
so it was time to make a new pair for the 2008 Spring and Summer Nerfing scene.
For these to work, obviously - you first need to be using a holster. I won't go heavily into the logistics of why a holster is better than whatever, because it's just what I prefer. Stuffing shit in pockets / cargo shorts seem to work for some, but for me I find this to be a more comfortable and practical alternative. When Little Jimmy goes and runs through the dense foliage and heavy brush because he missed with his shitty little Tek 6, I don't want my sidearm falling out or flapping around when I'm running after him. It's annoying, and not to mention
really
uncomfortable. If you're already using a holster, this will probably help with the straps shifting while you run. The loops simply act as a guide and limit the slipping of the holster itself, not the movement of your legs. So, on with the materials: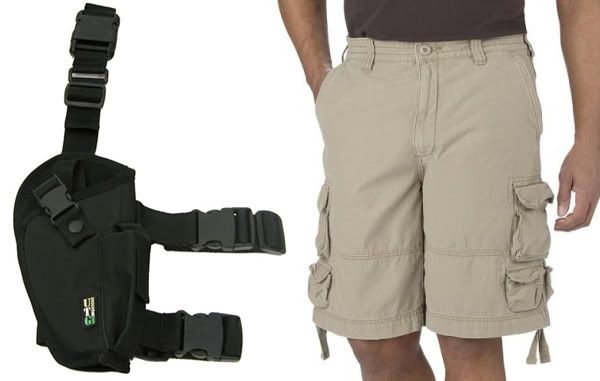 I use the UTG Drop-Leg Holster, which you can find on most Airsoft sites. It cost me about $15, I think. It's durable, easy to adjust and comes in models for Righties and Lefties, whichever your preference may be. Make sure you get the Drop-Leg Holster and not the Hip Holster.
Secondly, you need a pair of shorts. I went to my local Target store and bought a pair of "Mossimo Mission Cargo Shorts." They're comfortable, light weight to allow for breathing, but also offer some padded protection with the pockets and such. Plus, they were on sale for $16. Done. Cha-ching.
I don't have any in-progress shots because while sewing it didn't even occur to me that I'd be doing this. But luckily for you, if you're trying to replicate this, it's extremely simple. See those little cloth tabs on the bottom rim of the shorts? Cut those off, because they're going to be used for the loops. They're made of a strong but slightly bendy material which shouldn't fray, which is perfect for this application.
Now, mark off where you want the loops to go. This will require you to put on the shorts, and the holster
(which needs to be adjusted to your liking)
and probably have someone else
(mothers or girlfriends work well)
mark off where the sewing needs to be done. I did two on the front, and two on the back from the 4 cloth tabs from the shorts. Now, remove the holster and take off the shorts because I wouldn't recommend sewing while they're still actually
ON
your body. Yeah. It won't end well. Be sure not to sew your shorts together on both sides...you'll also have some trouble trying to stick your leg down in there when you're putting them on. For those of you like me who are somewhat sewing challenged
(obviously not baghead)
, get your mother or girlfriend to help with the sewing. If you succeed, you will end up with something looking like this...
Front shot: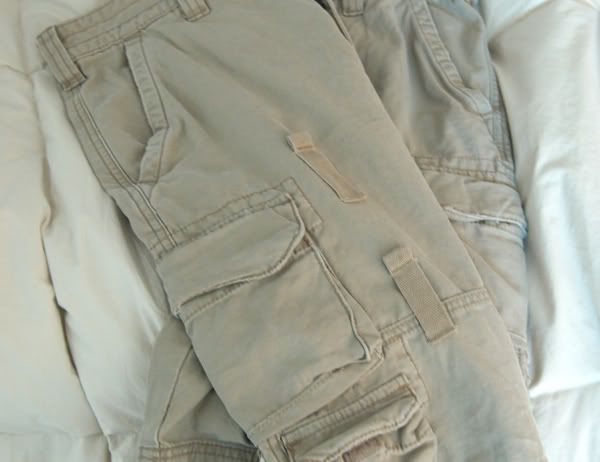 Back shot: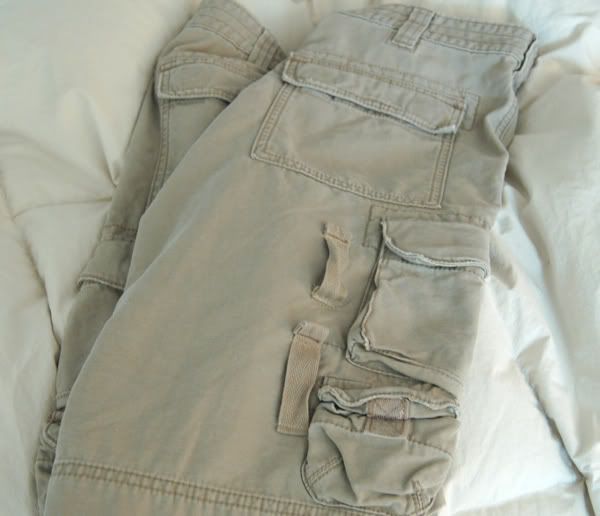 Attached holster: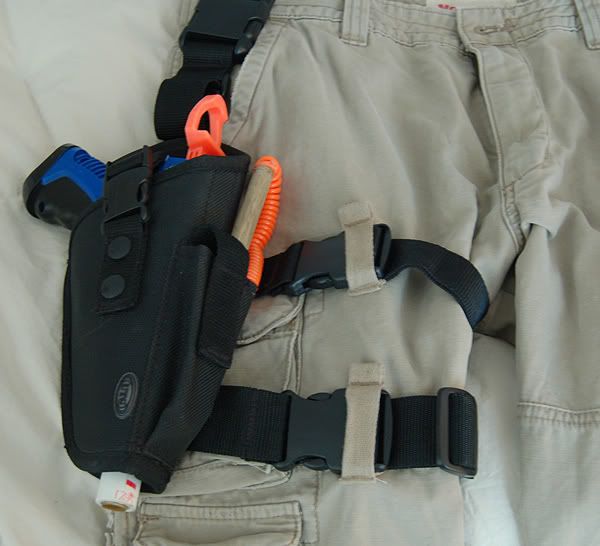 Comments, questions, cries of distress?
-Groove