Alright here's the gun. It has a very special PVC breech (I'll explain more later), and an Integrated SM3k.
Here's a close up on the SM3k. The pump was glued onto the bottom where the hornet would go, and the tank with a 1/2 inch Pvc barrel was glued onto the prongs where the scout would go .
Here's a close-up on just the pump.
Alright now to the breech. I cut a slot into the PVC like any breech but then I covered the opening with something a little different. Lying around, I found my old broken tech target. So I opened it up and took out the plunger tube. I cut off the closed end of the plunger tube and it just so happened to fit nice and tightly over the PVC. Here's the picture of the breech.
Breech Open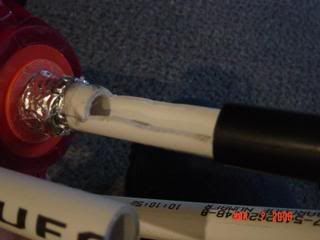 Breech Closed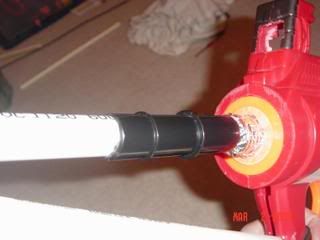 Both guns fire like a dream and I'm very pleased with the whole thing.
Questions, comments?
Edited by Liam, 03 March 2008 - 04:54 PM.