So I recently got a Razor Fin from Poo, and decided to dig right in. I looked in the mods directory and found no official barrel mod, so I decided to take pictures while I went along and see how it came out. Here's what I did.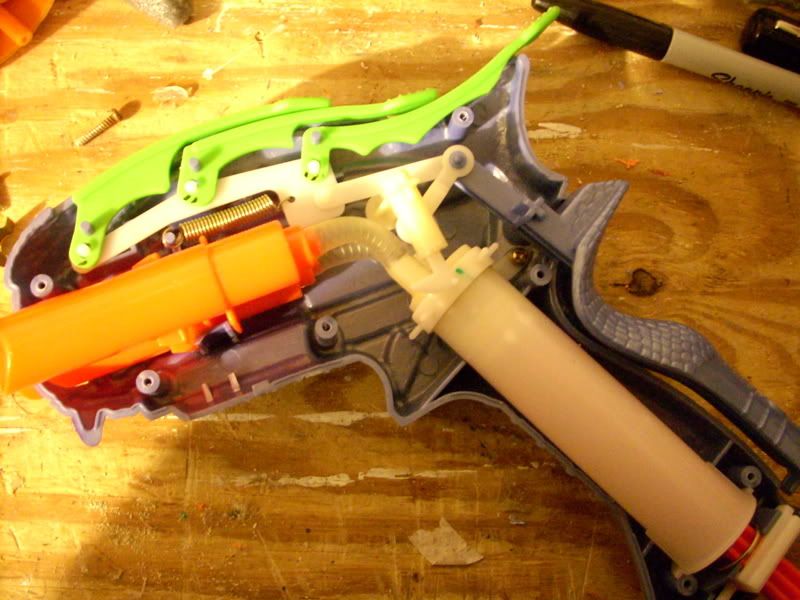 The razor fin's internals are fun - you get two barrels that automatically switch when you depress the handle enough. This means that the setup is a bit dicey, however. Once you have the gun open, there's a bunch of pieces that you have to save in order for the barrel switching to maintain intact. You get the three fins, which hold the top white piece that they're connected to in place. That white piece has a peg that the arm of the auto switch mechanism attaches to, allowing the auto switch to stay in place. I put dashes on the three fins, #'s 1-3, for an easier time when I put them back in. Here's a closer view.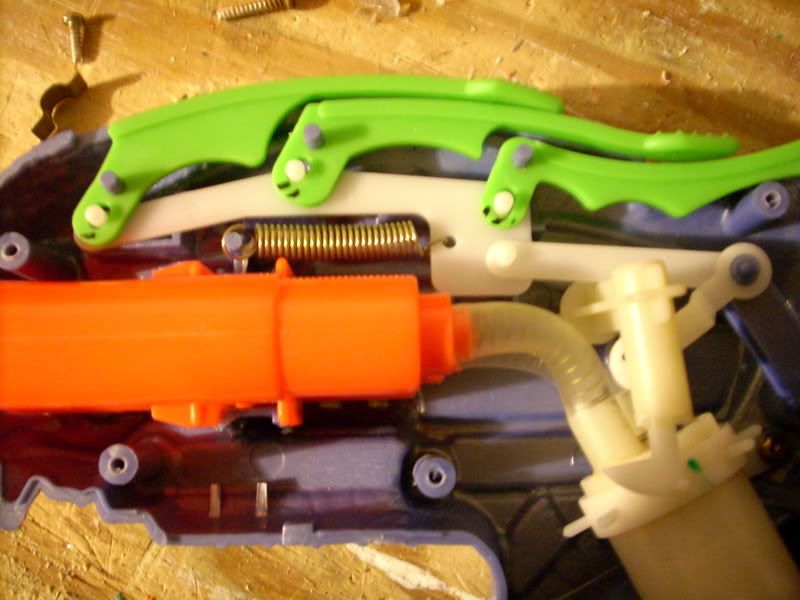 You can take everything out except the plunger tube and the barrels for right now, and put them somewhere where you won't misplace them. I also suggest putting dashes on the fins in the order that they go in, #'s 1-3, so that you can get them into place easier later. Once that's all out, you should be left with this.
The plunger ain't too bad, and the spring is decent for a stock gun. I'm not gonna replace it this time around, but I will definitely later.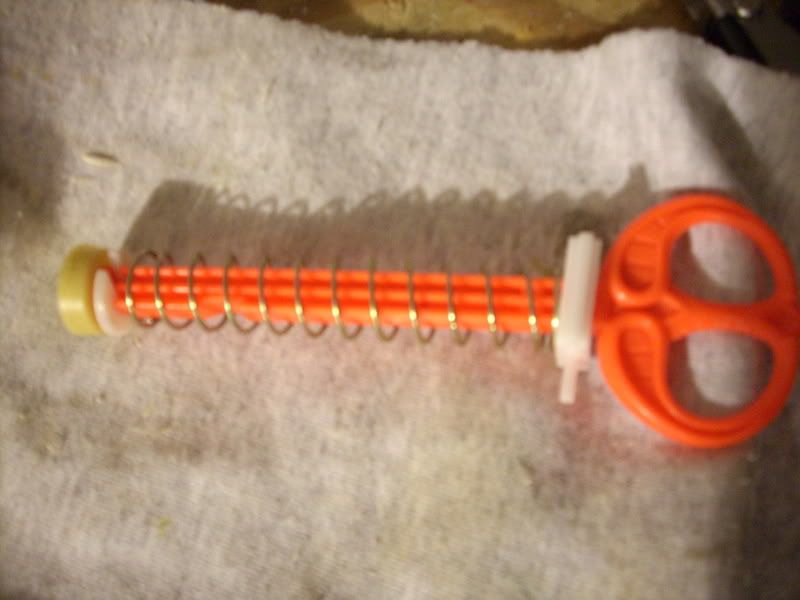 Now, you might notice that the barrels really just don't want to move. That's because they're glued in via these blue pieces of plastic, which are more problematic than you might think.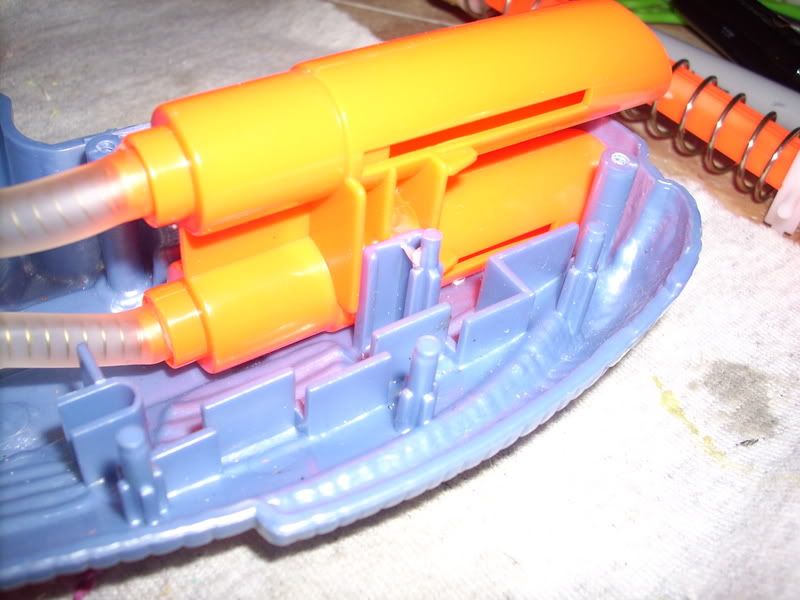 To get these out I took my trusty leatherman knife and pushed. Kind of a sawing motion but more just sliding through the plastic than sawing at it.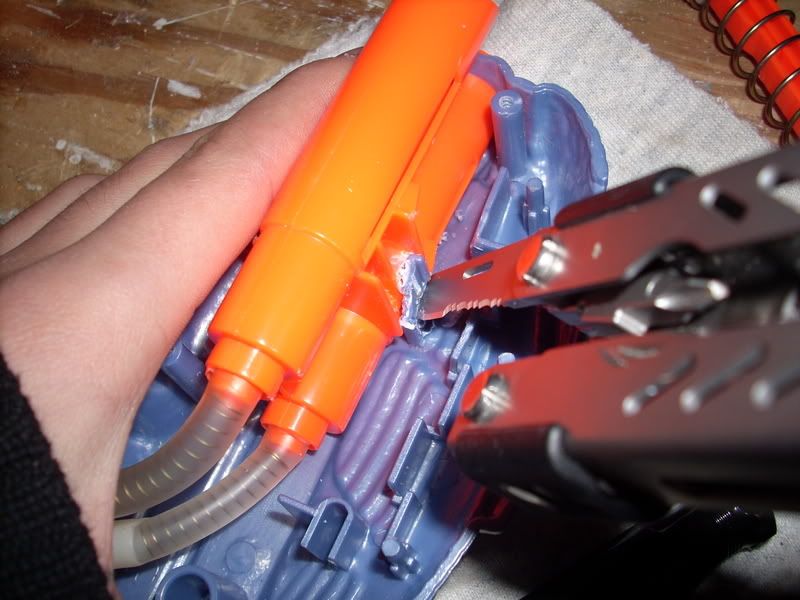 Once the blue pieces are out the barrels will slide right out. You want to cut them right at that small black MS paint line.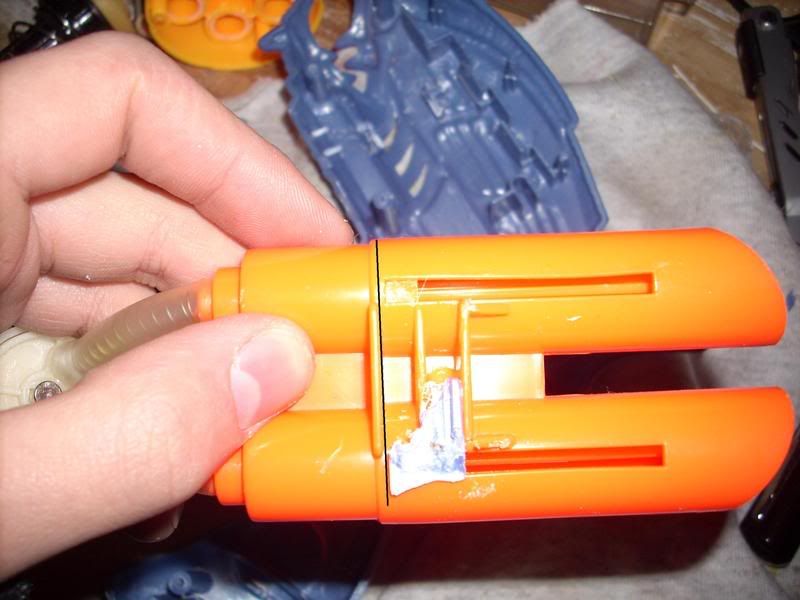 Now we need to cut out the air restrictors. Like the nubs before, your knife will work fine, and is quicker than pliers. You can also get all of the plastic out with your knife. Comparison of one done and one not -
I chose 3" CPVC barrels for this gun, it seemed to be just enough length for the tight fit on my darts, and slightly longer than the original barrels. 17/32 brass or whatever is tight on your darts will work as well.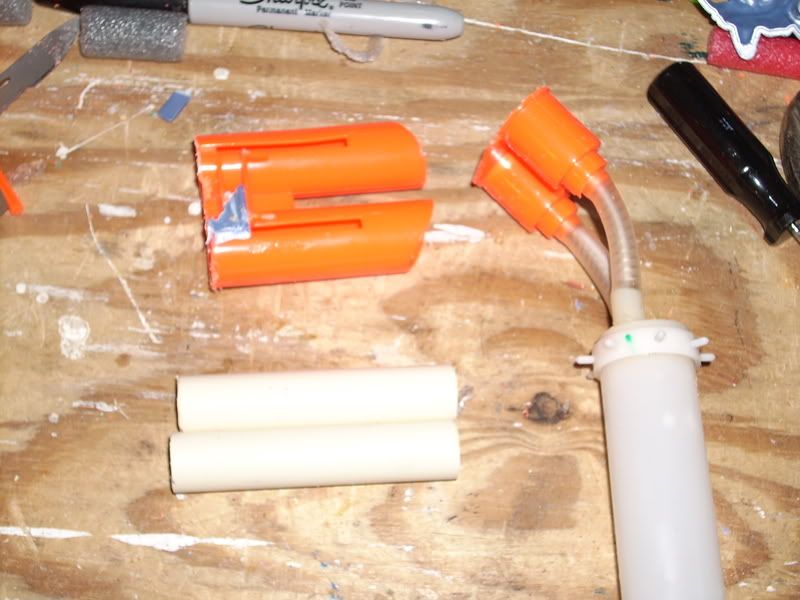 To get a good seal, I decided to shove the barrels into the nubs of the old barrels. But the CPVC just barely didn't fit, so I sanded out the nubs with my drill press. Any form of sanding will work, just make sure that you don't go through the plastic. And remember, you can always sand more, not less.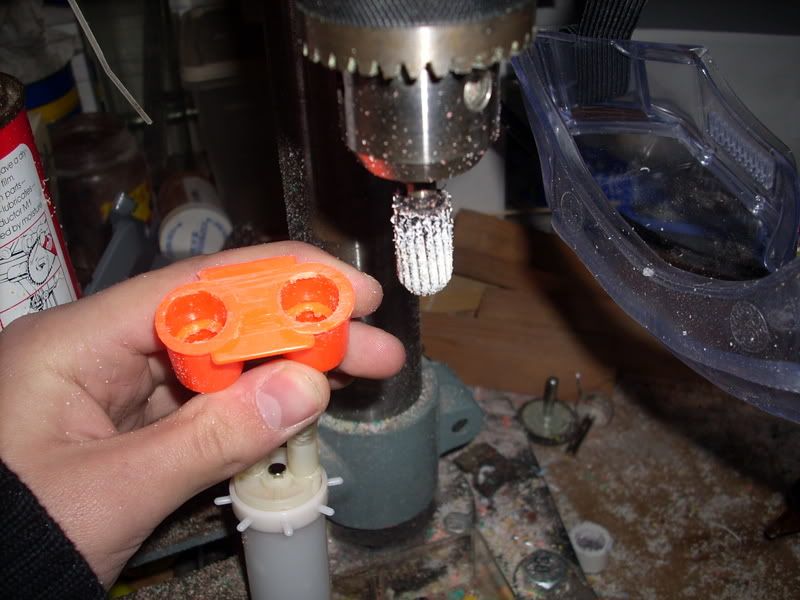 A couple minutes and a large pile of orange dust, they're in and glued!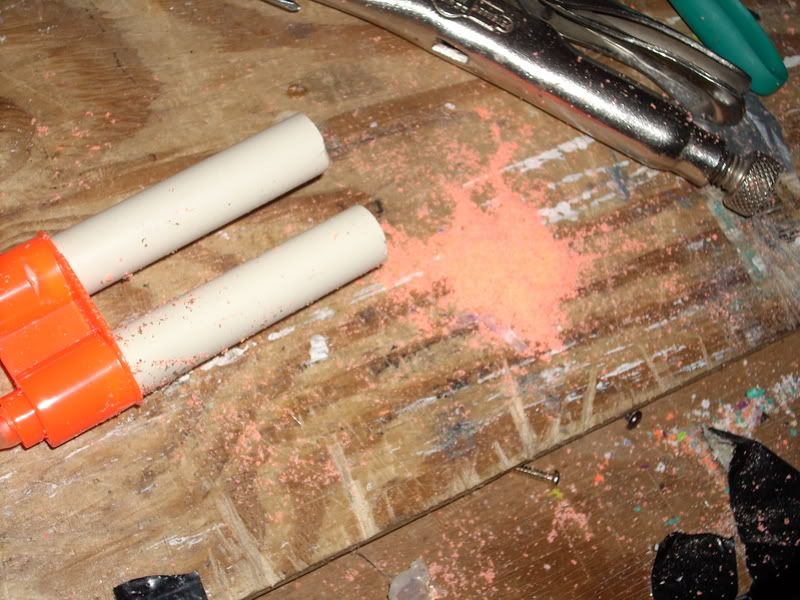 I then ran another bead of hot glue around the barrels and threw the original barrel sleeve on it. Straightens the barrels out and makes 'em look all nice.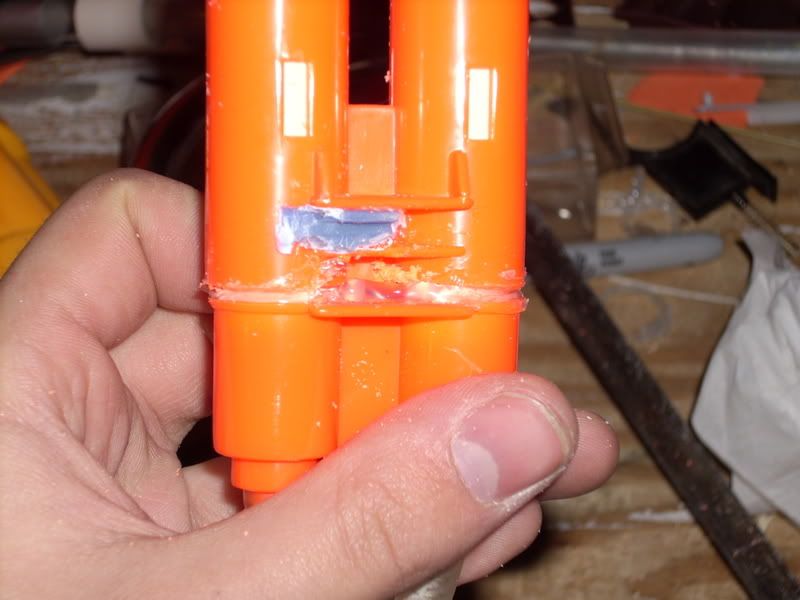 Crappy image post limit... Don't you post!
Part 2!
To finish up I wrapped the plunger head in e-tape and lubed it up. I use M1 All Purpose Lubricant, it doesn't smell too bad and doesn't eat rubber. Works for me.
Now the re-assembly is the toughest part. First of all, there's a spring on the white part which holds the fins that originally attached to the upper blue nub (there's a picture of it with my knife in it) that held the barrels in. Considering that I obliterated the blue nub, I had to improvise. I took my knife and wiggled it through one of the ridges on the barrel sleeve and ran the spring through that. Hopefully the picture will capture the essence of this one. The crappy, MS paint'd arrows are pointing to the hole.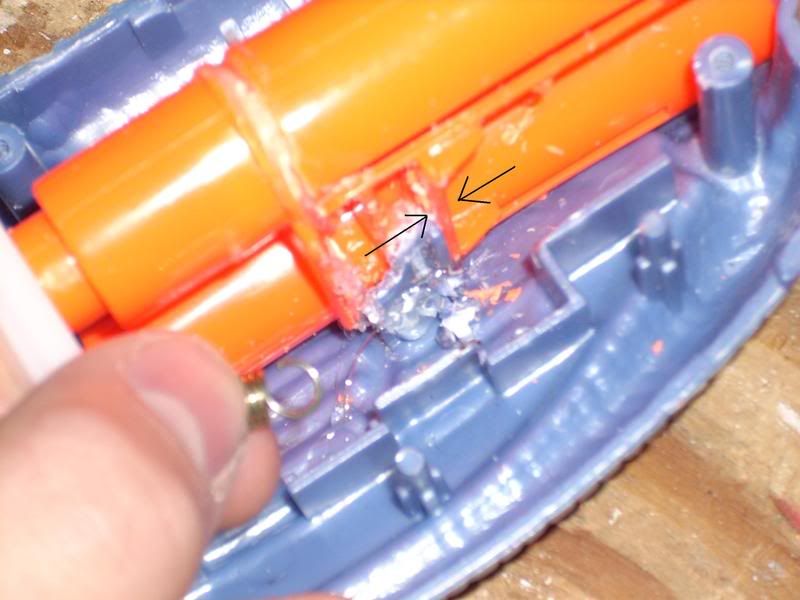 Then you've gotta throw everything back in. Refer to the first two pics for that step. Make sure that the arm that runs from the auto rotation mechanism is in place on it's nub - that's the part that slips out the most. The catch spring is also pretty strong.
And then you're done!
Ranges are sketchy right now because it's raining and I have no tape measure. I will update with ranges eventually. My rough ESTIMATE is ~50' with stefans and ~55-60' with converted tagger darts.
Comments, etc are welcome.
TS