My Maverick got great ranges before it ( I have no idea what happened) broke. I did various small mods and replaced the spring with a RFR spring (Holy shit! That thing is actually good for something!) and it got 60 feet (no shit). But after it broke it got 20ft max. I decided to give the gun the kick it deserved for the beautiful shell. Well, mines not beautiful, after several failed paintings, but nonetheless. I integrated a "Super Charger 400" which is a SuperSoaker, back from when they were still owned by Larami. All I did was attach some ¼" tubing, and bent the firing pin, all very easy mods for the kick that the gun gave.
Sorry the lighting is bad, and my mom's camera sucks: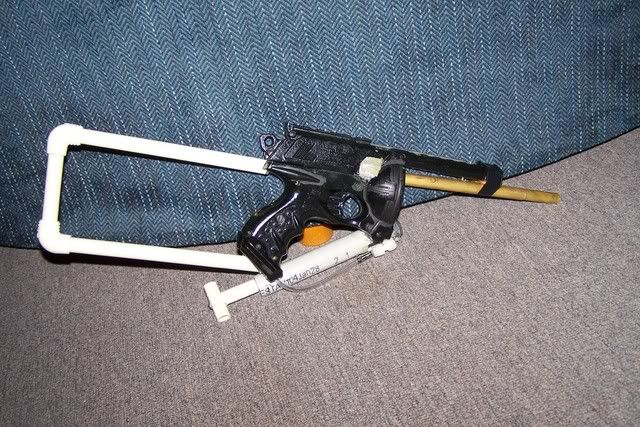 I installed the stock by drilling a few small holes and putting bolts through the holes from the inside, and gluing them into the stock, which is made of CPVC.
The internals: (pump, tank, and trigger)
The slide is attached to the breech, which consists of a 9/16" outer, and 17/32" bolt and inner barrel.: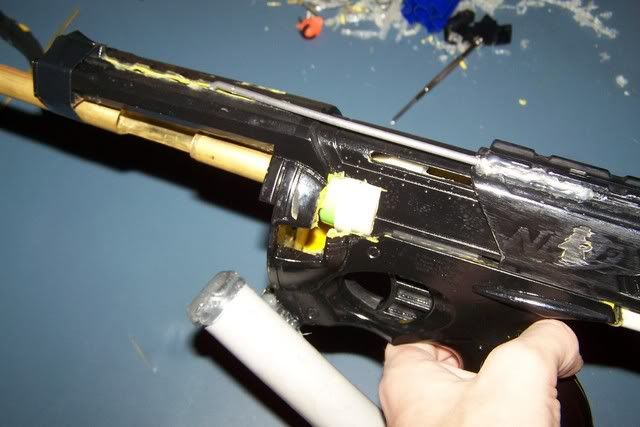 It gets at least the original 60ft at 6 pumps and has a rate of fire at of 12 shots a minute (1 every five seconds). It's an utterly beautiful gun (If your over look the bad paintjob), and it performs well. What more could you want?
Edited by Maeric, 04 March 2008 - 07:28 PM.