Arachnophobia (the original) was born when I thought, "Wouldn't it be cool if I had two Big Salvos attached to a Manta Ray?"
Well, Arachnophobia II was born when I thought, "What if I had a gun that had the range and accuracy of a SuperMaxx 1500 (my usual weapon of choice) and the rate of fire to take out four or more opponents while raiding?" So, while the original Arachnophobia was comprised of three guns (two Big Salvos and a Manta Ray), Arachnophobia II consists of FIVE GUNS!!! (two Supermaxx 1500's, two SMDTG's, and a MagStrike). Hopefully you're now wondering what sort of abomination that would produce...well, here goes!
First I took a MagStrike shell and dremelled out the area where the piston and MS clip are normally. I also cut open the front of the gun where the "grip" was before. I then took the blast chambers from two SM 1500's and hot-glued them together and then glued those down to the inside of the shell.
Next, to make the trigger system, I drilled a 1/2" whole through the back portion of the shell (where the tubing and the piston originally connected). Then I cut a short length of 1/2" brass and pushed it through the whole. Next was to cut two grooves into the shell (about 1/2" apart) near the vertex of the magazine well and the hollow space between it and the trigger (where the trigger-hand goes) and then put another short length of 1/2" brass in those grooves. I then ran some wire from each of the firing pins around these brass tubes (nested in PETG to reduce friction) and fastened a key ring to the end of each piece of wire.
Now for the SMDTG's. I cut a whole about 1.5"x3" in the MS shell just above the pump shaft and right below the Magazine well. The "detonator switches" sit in this whole with the push-buttons facing out to the left. I used four barbed tees and some extar tubing to get both of the SMDTG's to fit in the mag well.
The SuperMaxx blast chambers get 9" CPVC barrels and the SMDTG's get 5" PETG barrels. Each SuperMaxx blast chamber and each SMDTG detonator-trigger-assembly has a check valve behind it to prevent the air from leaving other blast chambers when one is fired (total of four check valves). With a network of barbed connectors and tees these are all connected to the existing MS trigger-valve (one-way push-button valve).
The last modification is the bladder. It has been reinforced with two layers of bike intertube to increase pressure. I'll post a more detailed write-up with some internal pictures when I've got more time, but for now, here are some pictures: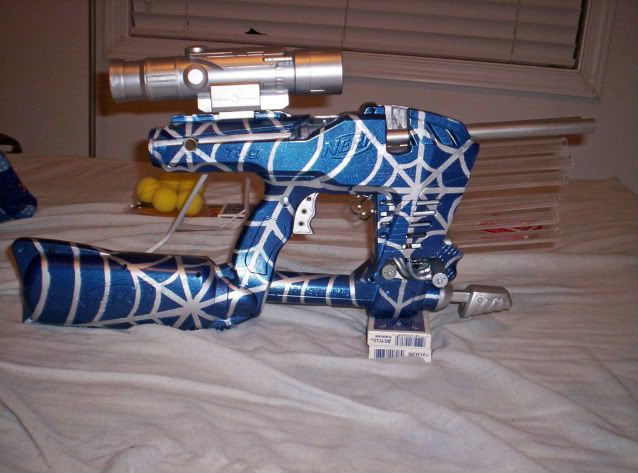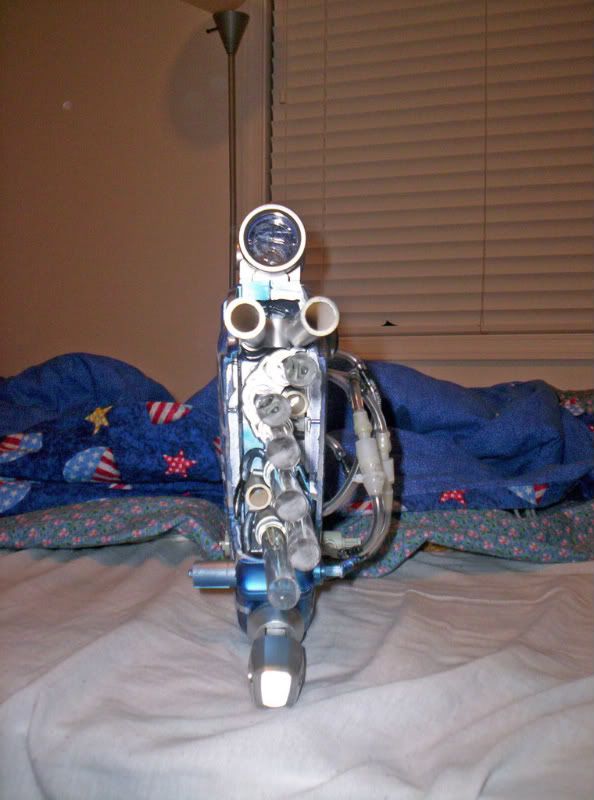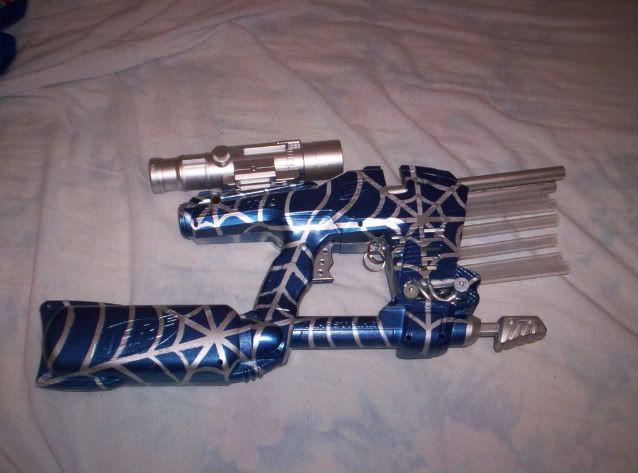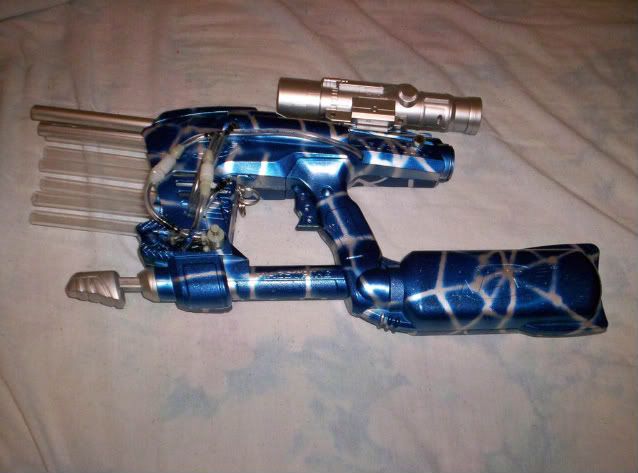 Edited by imaseoulman, 12 February 2008 - 07:39 PM.