So a few weeks ago I decided I wanted a whiteboard. I looked at several options and all of them were expensive - a 4x8' whiteboard would probably run about $250-300 and I don't have that kind of money. So the natural choice was a homemade board. This is not my idea (I found several articles about it on different sites but none with a step-by-step writeup), but I thought it would be nice if the information was accessible here, so I snapped a few pictures of it. Now, onto the writeup.
What you start with:
It's a 4x8' piece of
tileboard
from Lowe's (also known as showerboard or panelboard). It's made to be put on the walls in bathrooms so it resists stains and water. A sheet this big is only $11 so if you have the wall space you could cover a huge area with this stuff really cheaply. Carrying it is the pain the ass but it's only 1/8" thick so you can cut it with a jigsaw.
You'll need some markers too. I use Expo markers because they're the cheapest ones at my OfficeMax. I also got an eraser there but a regular chalkboard or whiteboard eraser works better.
The next step after cutting it (if necessary. I cut mine so it would fit in my room) is to mount it. By far the best way to do this is sheeters. You can use mirror holders but they suck and like to snap and let the board come loose. Here is what the sheeters look like:
As you can see they're just screws with bolt-like heads and padded washers around them. You screw them through the board and into the wall like this.
Finally, here's the finished product. It's almost 29 square feet so the picture doesn't show all of it.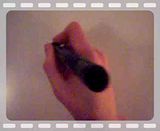 The video shows that it erases pretty cleanly and easily. There is a little ghosting when marker is left on for a while but I had some math on there for about four days and was still able to get most of it off. You need to clean the board every few days with a dampened paper towel but that only takes about two minutes and the board looks brand new after it's done. If you have dogs I don't recommend letting them walk on the board before you put it up because mine has several little scratches on it that have gotten filled with black marker after some use and are now impossible to get rid of. Nothing major, but it is annoying.
I highly recommend doing this if you want a good place to brainstorm or just something to draw on. I probably saved about 95% with a homemade whiteboard rather than a "real" one.
Edited by NerfMonkey, 12 December 2007 - 09:48 PM.