I give you Cerberus ladies and gents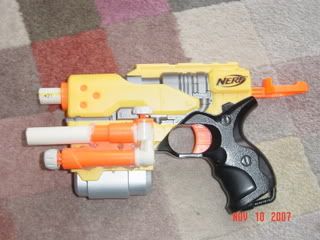 The main gun is that fairly new diskshot blaster. It's Ar's were removed, spring replaced with an SM500 spring and the longshot frontgun spring (I know what you're thinking, shut up.), barrel replaced with 3.5 inches of cpvc pipe, and the insides were reinforced with hot glue. It can hit ranges of about 60-70 flat and 80-90 angled.
As you can see, there's a little something else on the outside of the diskshot. That's right, I integrated an SSPB with Ar's removed and a cpvc barrel on the outside.
I might do a full wright-up on this but I dont have many good pics to do so.
Questions, Comments?
Edited by Liam, 11 November 2007 - 11:14 AM.