My answer is synonymous with the rest, heck yes is can be integrated.
As far as giving out advice or tactics a little more information on what kind of war you're fighting would go a long way such as:
Do you all play with stock guns?
Are there rules against modded guns?
Are you nerfing outdoors or indoors?
What size are your wars (people per team)?
As stated before, you need to make sure you use the Vulcan in situations where its strengths are maximized and its weaknesses are minimized. Don't bring a knife to a gunfight, bring a gun to a knife fight.
1-2 Sidearms are good. The Recon you have in pistol mode with some extra clips and a NF/DS with a nice simple barrel mod and banding will give you a nice balance of range and ROF for sidearms.
Here are a couple of generic tactics that work in both indoors and outdoors, they all involve using cover to gain an advantage; as a Vulcan is about as useful as a milkshake in an open field battle. You'll have a welt on your neck from a x-bow before you can get within twice your range.
In both cases I have assumed that you are the one with the Vulcan, however if you're co-ordinating the squad you can ask your Vulcan (or RF20, both work for suppression) wielder to fill these roles.
The first one is just basically..... "How to whore a choke point"..... Don't get too greedy, don't camp. Switch sides often and after a few kills find a new choke point - unless you have backup to protect your flanks. Remember - a dart in the head makes people learn quickly.
Keep moving as the arrows suggest, both within your fire zones and side to side; otherwise people will know where to aim.
Though I have only put one enemy in the diagram the idea is to do it to a group, where the ROF and the large ammo supply of the Vulcan really shine. Otherwise its just a plain ambush really and a skilled player could do it with a scout..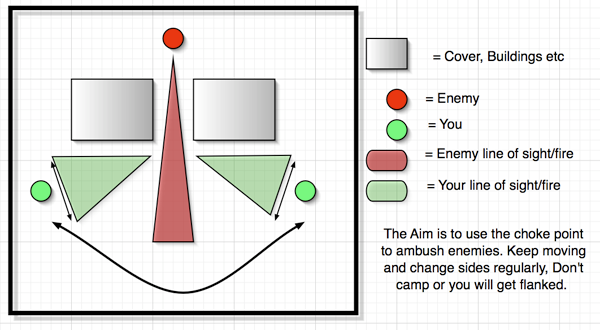 The next is an offensive or defensive tactic. Basically just a fire suppression tactic, I'm sure that everybody has heard of these. If your attacking its a good way to overwhelm dug in enemies. Pin them then mop them up. Having your squad advance from either side simultaneously (called a 'pincer' movement) works great.
f you're defending its much quicker to have your squad counter attack than to get in a long drawn out firefight. By ending it quickly it make sure the enemy doesn't get a chance to flank you. Its up to you to assess the situation; don't send your squad out if the enemy isn't truly pinned or they'll probably take heavy losses.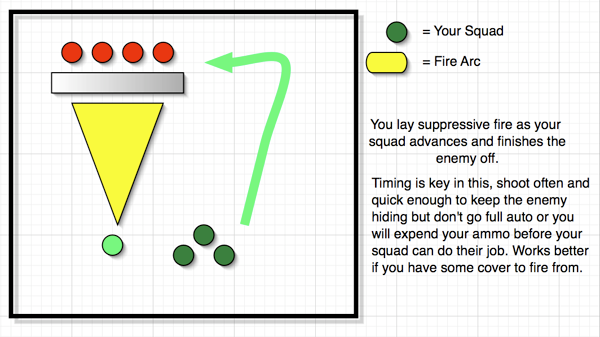 I hope thats at least a little helpful and didn't bore the veterans to death, more specific tactics could be suggested if you provide more info.
Aj